CHOCOLATE 20 YEARS FLAG SCARF
£

29.95
Sold out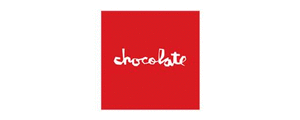 Chocolate Flag scarf. Celebrate 20 Years of Chocolate Skateboards with these Special Edition jacquard soccer scarf featuring the Chocolate Flags art.
This is a super high quality product, one you will cherish for many years!
The Chunk Pom Pom Beanie features a classic Chocolate Skateboards Chunk detail woven through it.